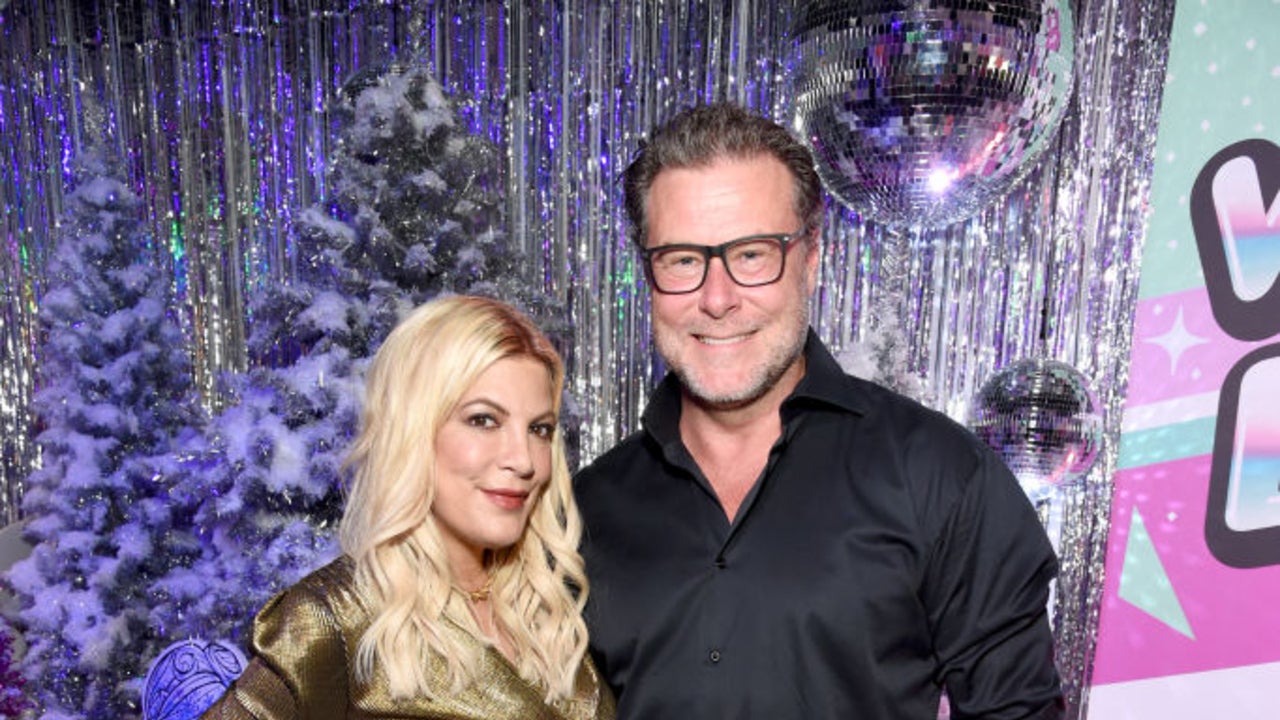 Dean McDermott is taking the blame for causing estranged wife Tori Spelling "a lot of damage and pain" and ending their 18-year marriage.
Talking with the Daily Mail Online, McDermott, 56, said it was his addiction to alcohol and prescription drugs that resulted in their separation — which he announced back in June on Instagram.
"All Tori's ever done to this day is want me to be happy and healthy and I inflicted a lot of damage and pain on that woman," he said. "I'm taking accountability for that today. And it's the biggest amend that I'm ever going to have to make."
The Canadian native spoke with the outlet from a Los Angeles rehab, where he discussed his substance abuse and how it directly contributed to the downfall of their nearly 20-year relationship.
He said that toward the end, he would often go into alcohol-fueled rages that "petrified" Spelling, 50, and their children. The former couple shares five kids: Liam, 16, Stella, 15, Hattie, 12, Finn, 11, and Beau, 6. McDermott is also the father of Jack, 24, from a previous relationship.
"Alcohol made me feel good enough. I started feeling good enough until it got to a point where it didn't – it ended up in isolation," McDermott shared. "It ended up with me drinking a fifth of tequila every night, seven days a week, and a handful of narcos [prescription meds] by myself with a beautiful family in the other room."
"That's what it led to and that's what led to the brokenness and to what happened between me and Tori," he continued. "I couldn't do it anymore. I couldn't live that life anymore. I was tired of the anger and the yelling."
By the time he took to Instagram in June to announce their split, he said he would often pass out in an alcohol and drug-induced stupor, leaving Spelling to worry if he was still alive.
"It's with great sadness and a very very heavy heart that after 18 years together and 5 amazing children, that @torispelling and I have decided to go our separate ways, and start a new journey of our own," McDermott shared in a since-deleted Instagram post from June.
"We will continue to work together as loving parents and guide and love our children through this difficult time. We ask that you all respect our privacy as we take this time to surround our family with love and work our way through this," he wrote.
McDermott says he was drunk at the time the message was posted to his social media account.
McDermott told the Daily Mail that he's still working on his addiction issues and that over the summer, he completed a 40-day rehab stint. Since completing the program, he's moved into a Los Angeles sober home and lives with eight other men.
"It's going to be living the rest of my life making amends because I took something that was really beautiful and I just tore it down year after year, day after day," he said.
He said that their marital issues go back at least five years and that one major issue that led to the beginning of the end was Spelling's alleged insistence on letting pets — including a pig and a chicken — sleep in their room.
He moved into a separate bedroom in their home and in that isolation, their marriage started to wither.
Eventually, he said they became more like "roommates," living almost completely separate lives as his drinking problems continued to worsen.
"We were roommates. Rarely, rarely, rarely did we eat together. We'd sit down and have a family meal but it was always disjointed," he said.
"Add in the fact that we're not sleeping in the same bed – it's like docking your iPhone at night. If you don't dock your iPhone at night, you wake up with a dead battery," he continued. "I believe that the marital bed is the docking station for your relationship. Where you connected each other. It's where you download information. It's where you spend time together."
"It's where you're intimate, it's where you love. You laugh and you cry. So that's gone. The relationship suffers greatly, greatly," he said.
"I've never been so lonely in the same house with six other people, never been so lonely in my life," McDermott shared.
Among the list of other issues in their relationship, the Chopped Canada host admitted to an affair in 2013 with Emily Goodhand, just three years after Spelling and McDermott had renewed their vows.
After the affair, McDermott said his wife was not upset when she found out about Goodhand but begged him to go to rehab for his drinking — which he said contributed to the affair.
"She really tried to help me and she would do it in a loving and subtle way like making suggestions until it got so bad, she was like, 'you need to get help," McDermott said.
Upon returning from rehab, the couple immediately started filming True Tori — the reality show about Spelling's life and their marriage.
"That was really hard to get through and be sober while trying to solve your marital problems in the town square," he said. "What a horrible idea. I thought it would help people. I was too fresh out of treatment to even think straight that that would be a bad idea."
The issues continued to build up over time until earlier this when he finally drunkenly posted about their split. At that time, Spelling told him it was time to get help and helped him find Harmony Place, the Los Angeles luxury rehab where he spent more than a month over the summer.
Since separating, McDermott said he hasn't seen his five children since June when they moved out of their home due to mold issues. He did say that he has recently been in contact with Spelling, however, and that he is hoping to see her and their children soon.
McDermott and Spelling have both started new relationships — McDermott with Lily Calo, a senior account executive at Conscious Community Global in L.A. and Spelling with ad exec Ryan Cramer.
In October, a source told ET, "Dean has been dating Lily, but it's not super serious yet."
The next month, a source said of Spelling's newfound singlehood, "Tori is having fun and enjoying getting back out there. She doesn't mind that the news of her dating is public."
"She is moving on too from her relationship with Dean. Things are still new with Ryan and they are talking and getting to know each other. He's a chill guy and that's nice for Tori right now. Her friends are surprised by the recent romance, but also happy for her," the source said.
RELATED CONTENT: