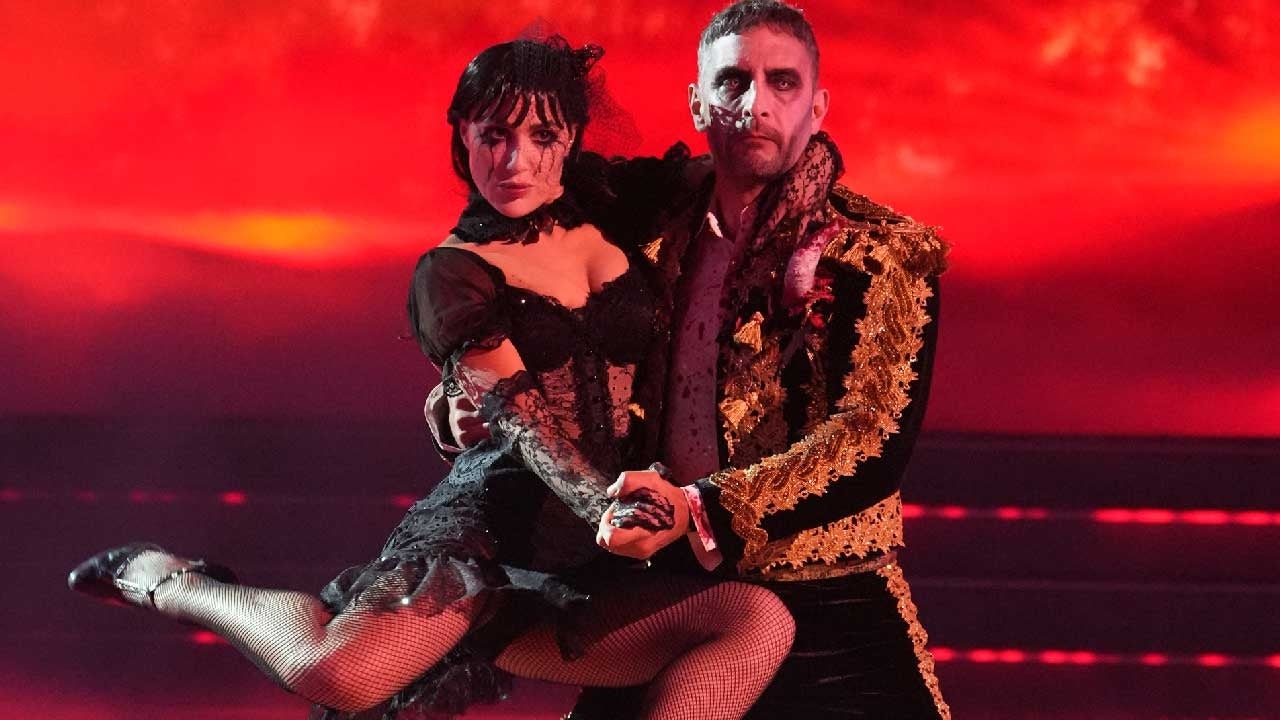 After six weeks of intense competition and countless hours of rehearsals, Mauricio Umansky's journey on Dancing With the Stars came to an end on Tuesday, at the close of this season's Halloween-themed Monster Night.
ET's Denny Directo spoke with Umansky and his pro partner, Emma Slater, after the show, and the Buying Beverly Hills star reflected on his transformational, joyful experience.
"It was so much fun! It was an incredible run, and quite honestly I got a chance to at least dance the Argentine tango, which is the dance I told them I really wanted to dance at the beginning," Umansky said. "And we killed it! We danced so well."
While Umansky and Slater did get the boot, the pair were far from the bottom of the scoreboard, earning a total of 31 out of 40 from judges Carrie Ann Inaba, Derek Hough, Bruno Tonioli, and special guest judge Niecy Nash-Betts.
The pair pulled off a fiery Argentine tango to "Somebody's Watching Me" by Rockwell that impressed the judges, but evidently failed to earn them enough viewer votes.
"I think the [best] way to go out is when you made so much improvement," shared Slater. "And to perform an Argentine tango — which is the one that you wanted — and to lead me around the floor with that kind of passion, it is really exceptional."
While Umansky said he was "definitely" surprised that he and Slater got eliminated this week, he had no misconceptions about it happening sooner or later.
"I knew that, eventually, it was gonna come to an end," Umansky said. "That is, I'm not the strongest dancer here. There's some great dancers out here. I mean, some really great dancers. I knew that my journey was gonna come to an end eventually."
"So literally, all I did was enjoy every single day," he added. "And when you enjoy every single day, there are no challenging parts."
According to Slater, the pair realized recently that they "were the couple that probably rehearsed the most," and through their efforts they formed an incredibly close bond.
"You get to dance with so many people on this show, but not everybody has that real, soulful connection to you," Slater said. "And Mauricio does for me. So we're gonna be friends for life."
"I think when you're comfortable with someone and you can have stimulating conversations and it keeps rolling — also when you're rehearsing for four hours a day — you get to really know people," she added. "So this has been a blessing. He's so special. Such a positive energy. Gets the best out of everybody."
"We had so much fun and it was amazing," Umansky gushed.
Dancing With the Stars airs Tuesdays at 8 p.m. ET/PT on ABC and Disney+.
RELATED CONTENT: