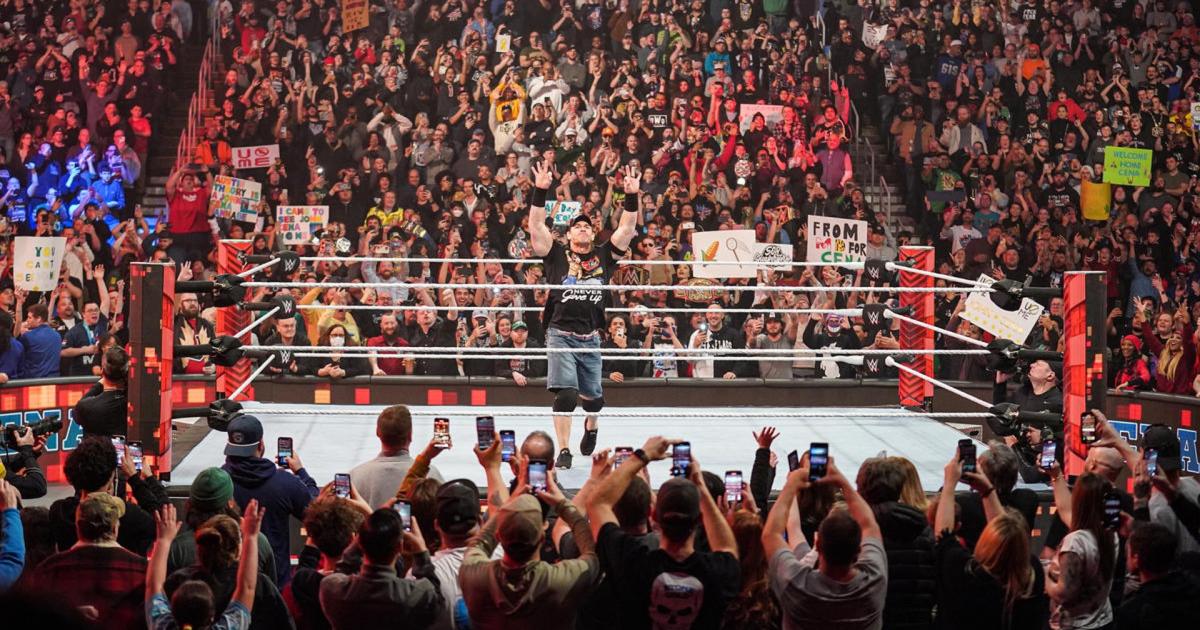 Since showing "Ruthless Aggression" in his WWE debut in 2002, John Cena has become an iconic figure in the world of pro wrestling. Considered one of the greatest to wear wrestling boots sneakers and jorts, Cena helped further popularize WWE following the Attitude Era.
From the "Doctor of Thuganomics" to a multi-time world champion and "Super Cena," Cena always gets mixed results. That has helped him become a polarizing figure and a true giant in the industry.
While he has focused on his movie and TV career as of late (starring in The Marine, The Suicide Squad, Peacemaker, Daddy's Home, Fast X, and even Barbie), Cena always remembers where he came from. Giving back to WWE has been something Cena relishes, whether to promote a top talent or enhance a story.
What is the status of John Cena now? Here is all you need to know about the WWE icon and where he stands in the pro wrestling world.
MORE: WWE's merger with Endeavor Group, explained
Did John Cena retire from WWE?
Though no longer a full-time wrestler, Cena is not officially retired from wrestling.
While he doesn't have the same schedule as when he was in his prime in the late 2000s, Cena still occasionally wrestles. His last match was at WrestleMania 39 when he lost against then-WWE United States Champion Austin Theory.
Regarding how long he plans to continue competing, Cena was honest when speaking with Chris Hardwick on the ID10T podcast.
"Returning to WWE, it's a brand new world. A new cast of characters, new direction with the company, new platforms, new environment. There is a challenge there," Cena said via Fightful. "To challenge myself as a 44-year-old to go back, there is an intrinsic challenge there, a set of circumstances. That's a good challenge in many ways. My body could tell me after this extended stay, 'Dude, you're done,' or it could tell me, 'You're so far from done it's crazy.' That's another interesting conversation with myself. If physically, I'm slower, I've said openly to everyone that I will keep doing this until I feel I'm offending the customer. I will continually go out there and do what I can to contribute and add. I don't want to go out there and be like, 'Okay, just let him go out there and (do his thing).' I'm not into that because I know what it's like to pay for a ticket.
MORE: When can you play AEW: Fight Forever video game?
"If I were to get that on this go-round, it's a humbling and tough thing that I will have to hurdle. If I get the opposite and it's like, 'You're quicker and can do some things better and define a new personality,' then that's a new conversation because I do not have much time left, and if I want to give it like, 'let's really commit to this thing and really go all in,' that's an honest choice where other stuff will have to take a backseat."
John Cena next match: WWE schedule in 2023
Cena has competed in two matches in 2023. He lost to then-WWE United States Champion Austin Theory at WrestleMania 39. Booked as "The Then" vs. "The Now" in WWE, Theory pinned Cena to open the first night of WrestleMania. Cena had actually been an influence on Theory's career.
The 46-year-old returned to action at WWE Superstar Spectacle on September 8, 2023, teaming with Seth "Freakin'" Rollins to beat Imperium's Giovanni Vinci and Ludwig Kaiser. It was his first time wrestling in India.
MORE: Breaking down how much Hulk Hogan has made in his career
Cena is scheduled for seven consecutive appearances on SmackDown, ending on October 27. In his first televised match in six months, he teams with LA Knight to take on The Bloodline's Solo Sikoa and Jimmy Uso. That takes place at WWE Fastlane on October 7.
Who will John Cena wrestle next in WWE?
Cena and LA Knight team up to face Solo Sikoa and Jimmy Uso on October 7.
On the first SmackDown of September, Cena interrupted a Jimmy promo, ultimately giving him an Attitude Adjustment. Not long after, Jimmy and Sikoa attacked Cena. AJ Styles saved his former adversary, and the two were supposed to team up to face Jimmy and Sikoa at Fastlane. However, Styles was attacked backstage and injured by them, along with several of Cena's friends. Knight eventually helped Cena out and the two have formed a team to take on the duo.
Following this match, it is unknown who Cena will face next. The Sporting News will provide additional information on his future in wrestling when available.
How many WWE titles has John Cena won?
Here is a complete breakdown of every WWE title that Cena has won over the course of his Hall of Fame career.
| | |
| --- | --- |
| Titles | Number of times Cena has won |
| WWE Title | 13 |
| World Heavyweight Championship | 3 |
| WWE United States Title | 5 |
| WWE Tag Team Titles | 2 |
| World Tag Team Titles | 2 |
| Money in the Bank | 1 (2012) |
| Royal Rumble | 2 (2008, 2013) |
| Slammy Award | 10 |