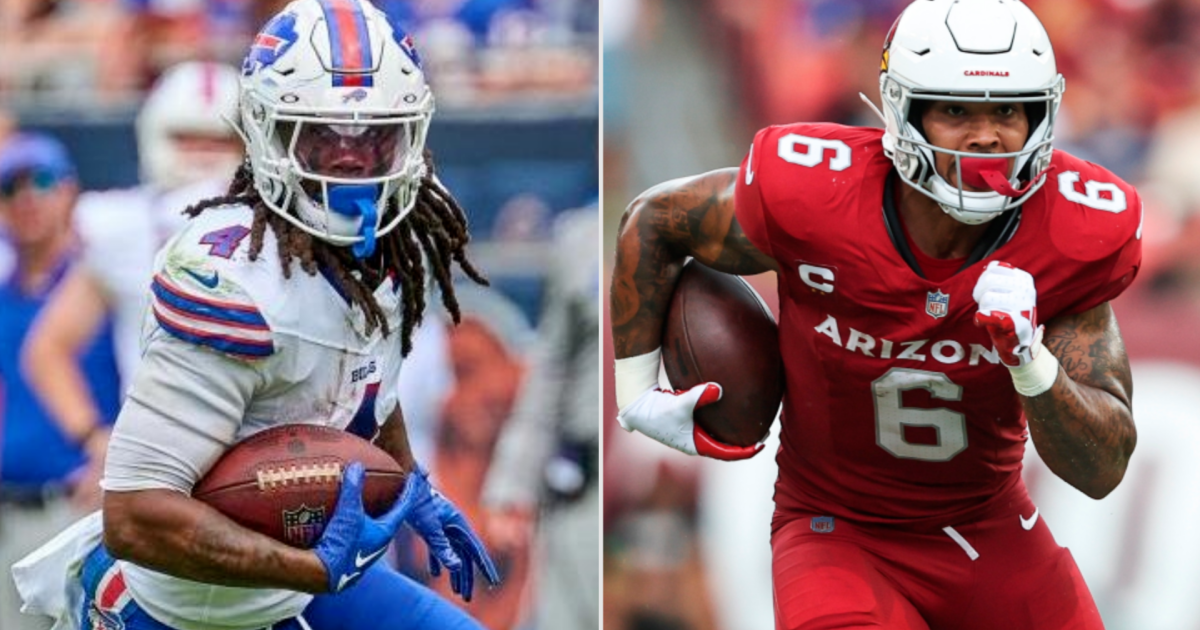 The end of September and dawn of Week 4 often signal a changing of the guard. Summer has given way to fall, leaves are changing colors and departing the trees they've called home since spring, and NFL teams begin to learn whether they have anything to play for over the next three-plus months. It's a harsh reality for teams that sit at 0-3 or 1-2, just like the ones that are 3-0 or 2-1. The highest of highs often balance out with the lowest of lows — just as true in NFL DFS contests on FanDuel as it is for real-life teams. While that can be a bad thing for some, the only true negative outcome is for the ones that flatline before spooky season even begins.
The first quarter of the 2023 NFL season is nearly in the books, and it's time for some teams to start stepping it up before halftime if they hope that have success in the second half. Luckily for our sake, we still have 14 more regular season cracks at winning as much money as we can. So, welcome to Week 4, and let's use our $60,000 budget wisely to secure us an even bigger check from FanDuel.
WEEK 4 FANTASY: Sleepers | Busts | Start 'em, sit 'em
Before we break down our picks and strategy, here are the most notable scoring rules for FanDuel contests: four-point passing TDs and half-point PPR.
WEEK 4 DFS:
DK lineup | Best values | Best stacks
FanDuel Picks Week 4: NFL DFS lineup for GPP tournaments
Sunday main slate, $60,000 budget
QB Brock Purdy, 49ers vs. Cardinals ($7,100). The irrelevant pick has been far from it in the NFL. Is it coaching? Luck? Talent? Bad evaluations from the 31 other teams? Whatever the case may be, Purdy is here and here to stay. The 49ers' signal-caller is the hamburger on the NFL's menu of quarterbacks. They are hard to screw up and serve as a steady option for lunch or dinner. You know what you're getting in a burger, but sometimes it can surprise you and exceed expectations. You're not getting sick, you're not sending the meal back to the kitchen. Most importantly, you're not holding up the rest of the dinner party when ordering. While burgers may not be the flashy pick, every once in a while you order one with a fried egg or avocado to spruce it up. For Purdy's matchup against the Cardinals, expect the toppings (aka the supporting cast) to do the heavy lifting as the quarter-pounder turns in yet another solid performance for those who like to dine on a budget.
RB Christian McCaffrey, 49ers vs. Cardinals ($9,700). Every good burger needs a quality piece of cheese. It's un-American to assume otherwise, as it's the perfect compliment to a juicy patty. Sometimes it shines by itself as a snack or helps take the attention away from an overcooked or undercooked piece of meat. McCaffrey is that for Purdy, but also for the Niners. The two can shine together or stand alone. More often than not, Purdy and CMC are a package deal, and this one isn't being flung onto the porch by an overworked delivery driver. Stack the Bay Area duo that might only be second to the power couple of Becky and Jesse Katsopolis.
RB James Cook, Bills vs. Dolphins ($6,800). Food has been a theme to this point, but it takes a great Cook to make it into a meal. That's exactly what the Bills running back has been doing in 2023, feasting on defenses after a pedestrian showing in Week 1. As we know, the season opener is typically deceiving, like those Yelp reviewers who enjoy works of fiction. Since that Monday night, Cook has rushed for at least 98 yards in each game and been a factor in the passing game, targeted seven times. He helps settle down a sometimes out-of-control Buffalo offense, as any calm chef would do during busy times. As the Bills keep rolling, we can keep this Cook in our kitchen, especially as he takes on the team from South Beach in Week 4.
WR Davante Adams, Raiders @ Chargers ($8,100). Adams is far from being the new kid on the block, but he remains the apple of everyone's eye. In terms of keeping with the kitchen theme, Adams is built like an old-fashioned appliance. Unlike the new products, those older appliances were passed down from generation to generation, something you'd buy once in a lifetime. They weren't the flashiest, but were always steady and never broke down. Appliances aren't made like they used to be as companies realized that cutting costs and quality would keep customers coming back to buy more. It's an unfortunate reality in the modern day, but we still get those throwbacks every once in a while. In this case, Adams stands alone as one of the last true set-it-and-forget-it receivers. He's penciled in as a top fantasy pick every year, producing at the same level with almost every quarterback he's ever played with. He's there when you need him and is unbothered by outside factors. He's here to do his job and will torch a terrible Chargers' secondary even if Josh McDaniels ends up being the one throwing him the ball (although he'd probably rather settle for a field goal instead).
WEEK 4 PPR RANKINGS:
QBs | RBs | WRs | TEs | D/STs | Kickers
WR Adam Thielen, Panthers vs. Vikings ($6,800). Thielen is similar to Adams in terms of reliability, but at a different stage in the game. He's the appliance that's been passed down already and is no longer operating at the height of his powers. Thielen is the refrigerator that was replaced with a new one (looking at you, Jordan Addison) and cast aside. But, as we said with Adams, there is value in keeping them around. The now-Panthers WR has been moved to the garage like a spare fridge, but anyone who's ever done that knows how impactful they are. It's sometimes forgotten yet becomes incredibly important with every trip to the store. The garage fridge stores extra drinks, food, and desserts for the holidays (or just anything else you need). Thielen has proved to be exactly that for the Panthers over the past two weeks — a reliable target who can still get the job done despite clearly losing a step. With nine and 14 targets in back-to-back weeks to go along with a touchdown in each of them, Thielen is on the rise once again. He gets a revenge game against the Vikings in Week 4, and whether you believe in the narrative or not, Andy Dalton or Bryce Young will certainly fire the ball his way enough to keep the 33-year-old relevant in fantasy.
WR Tank Dell, Texans vs. Steelers ($6,200). For our final receiver of the week, we introduce you to the microwave. Dell was fairly quiet in Week 1, but he's heated up in a hurry. The Texans rookie turned the power up to high in Week 3, recording 145 yards and a touchdown after a breakout game in Week 2 where he finished with 72 yards and a score. C.J. Stroud has gotten off to a terrific start, living up to his Jared Goff-like comparison with great passing efficiency. Dell is far from being like the computers that didn't work in school, and his budding relationship with Stroud is enough for us to trust the rookie in Week 4.
WEEK 4 STANDARD RANKINGS:
QBs | RBs | WRs | TEs | D/STs | Kickers
TE Jake Ferguson, Cowboys vs. Patriots ($5,100). You might be thinking we crafted this lineup just to talk about the kitchen, food, and cooking this week, but we assure you these things sometimes just fall into place. Ferguson, not to be confused with the plumbing, HVAC, appliance, and hardware brand, has been a fixture in the Cowboys' passing attack. We've been singing his praises since his showing in Week 1 that was misleading in the box score, and we'll continue to do so. He is second on the team with 18 targets behind only CeeDee Lamb. We know Dak Prescott loves throwing to tight ends and turned Dalton Schultz into a viable option the past few years. Instead of No. 86, it's now No. 87. Don't overthink it, and get this cheap option in your lineup against the Patriots in Week 4.
FLEX RB James Conner, Cardinals @ 49ers ($6,300). Break up the Cardinals! For a team that was "intentionally" tanking, Jonathan Gannon's Cards are dealing opponents with a terrible hand. They are tough to play against and an even bigger nuisance to bet against, so how about instead of fading them, we show them some love? They just knocked off the Cowboys and ended many survivor pools in Week 3. What can they do for an encore? We like what the Cardinals have cooking, and it all starts with the way Conner is running. He has a massive workload, carrying the ball at least 14 times each week, and he also has a role, albeit a small one, in the passing game. With two touchdowns to his name, Conner keeps on running tough and putting up solid numbers. Among a wide buffet of options, it's worth trying some of what Arizona has to offer.
DEF Denver Broncos @ Bears ($3,900). This pick is disgusting and rivals the vegetables you once gave to the dog under the table. We get that, but hear us out. The Broncos just gave up 70 points to the Dolphins and are far from a unit you can trust, but maybe it was just a bad batch. The defensive staff is on high alert after that embarrassment in Miami, and the only way to move past it is with a big performance in Week 4. Luckily for them, the Bears await. It's an ugly matchup between two horrific teams, which is always a recipe for a defensive battle. Denver should be able to get to Justin Fields and make his life even more miserable, at least as it relates to the NFL. Jobs are on the line for both sides, so we should expect both teams to give their maximum effort. Otherwise, those vacation plans will be officially finalized, if they aren't already. After giving up 70 to arguably the best offense in the league, we should trust that Denver will overcorrect against arguably the worst.
Best SuperDraft NFL DFS Picks for Week 4
This year, we're also listing our favorite single-game DFS plays on SuperDraft.
For those unfamiliar, SuperDraft's DFS scoring involves point multipliers as opposed to traditional salary-capped or tiered contests. A winning lineup will likely feature a strong mix of stud fantasy contributors with 1x-1.6x boosts, as well as matchup-based sleepers with larger multipliers. Each player is assigned a scoring multiplier based on their value as determined by SuperDraft. Users can roster any player in their lineup with no restrictions.
MORE: Win BIG with SuperDraft! Get a free $10 deposit when you use promo code "TSN"!
Here are the most notable scoring rules for SuperDraft NFL contests: Half-point PPR, four-point passing TDs, two-point bonuses for 100 rushing yards, 100 receiving yards, and 300 passing yards.
MORE SUPERDRAFT DFS: How to play SuperDraft
QB: C.J. Stroud, Texans (Multiplier 1.35x)
RB: Christian McCaffrey, 49ers (Multiplier 1x)
RB: James Cook, Bills (Multiplier 1.3x)
WR: Adam Thielen, Panthers (Multiplier 1.5x)
WR: Joshua Palmer, Chargers (Multiplier 1.6x)
WR: Puka Nacua, Rams (Multiplier 1.25x)
TE: Pat Freiermuth, Steelers (Multiplier 1.55x)
FLEX: Davante Adams, Raiders (Multiplier 1.1x)
We really like the Panthers to have a good offensive showing this week against the Vikings, but don't know which quarterback ends up playing. Because of that, we'll keep Thielen in the lineup and pivot to an impressive rookie, C.J. Stroud before getting clarity from Carolina. This lineup has a good blend of steady production and sleeper value thanks to players like Stroud, Thielen and Palmer, who figures to have a big role for the Chargers moving forward. There's a lot to like about this lineup that essentially combines our FanDuel and DraftKings versions into one, elevated by the generous multipliers.