Floyd Mayweather is set to box in the UK for the first time in his career. The American is ready to entertain fans in an exhibition bout against former reality TV star and combat sports veteran Aaron Chalmers at the O2 Arena in London on February 25.
This will be the sixth exhibition for Mayweather, who has fought the likes of Tenshin Nasukawa, Logan Paul, and Deji. The Hall of Fame boxer won titles in five weight classes, retiring with a perfect 50-0 in 2017.
Chalmers turned pro in MMA in 2017 and last fought in 2020. Competing for BAMMA and Bellator, he put together a 5-2 record and is 2-2 in his last four fights. In 2022, in his first pro boxing match, Chalmers beat Alexander Zeledon on points.
The Sporting News will provide live results and highlights from Mayweather vs. Chalmers. Stay tuned!
Floyd Mayweather vs. Aaron Chalmers live results, updates
Round 4 – Mayweather vs Chalmers
Plenty of showboating from Mayweather, who pulls his arms out wide, pats his chest and engages in some verbal goading towards his opponent.
Round 3 – Mayweather vs Chalmers
This must be tiring for Chalrmers, who keeps coming forward with attempts to land but is getting nowhere near.
Mayweather can land at will and there are a few calls for the modern great to knock out Chalmers, which you suspect is unlikely.
Round 2 – Mayweather vs Chalmers
Round two ends with a decent shot yet to land from the game Chalmers, who is immediately perturbed by a jab from Mayweather after the two shared a fistbump at the end of the previous stanza.
Mayweather goes in for the body, then lands with a right. There's still something vaguely compelling about watching a display of Mayweather's slickness, even if it's in such curious circumstances.
Round 1 – Mayweather vs Chalmers
Appropriately exhibition work from Mayweather, who variously troubles Chalmers with a left hook, a right and a double jab, all the while grinning.
A few coos and roars go up on each occasion, while Chalmers – wisely – is a picture of focus in his yellow with red-and-blue trim shorts.
10.43 p.m. GMT: "Have some fun – but we will keep this professional," the referee tells both headliners after Floyd Mayweather and Aaron Chalmers make their way into the ring and hear their respective national anthems ring out.
The section of the O2 Arena behind where the fighters emerged from is full of empty seats that have been covered over – in stark contrast to Mayweather's vast entourage.
10.22 p.m. GMT: It isn't every night you hear boxers introduced with lines such as "she has more than 1.5 million IG followers" and "she has been on 15 reality TV shows."
Tommie Lee vs Natalie Nunn – both wearing head guards – is up there with the most bizarre bouts you could ever hope to see.
Lee waves her opponent forward after taking an early pummelling, then throws a jab into thin air and almost falls over as she tries to wing another ragged shot in.
Then Lee, who is a model, actor and rapper, ends up on her back as the fight is called off in the second round. A measure of pandemonium ensues inside the ring, with Lee appearing to protest and Nunn shouting angrily at someone outside of the ring.
The pair eventually trade a fist bump and hug of respect. We're almost ready for the main event.
10.15 p.m. GMT: Cuban bareknuckle fighter Ulysses Diaz lives up to his nickname of 'Monster' by being part of an erratic tear-up with Khalass Karim.
Briton Karim has a considerable size disadvantage but turns this into an entertaining swingfest. Both fighters want a rematch afterwards.
9.45 p.m. GMT: Declan Kenna, a 3-0 Irish fighter, provides the latest brief show of skills with J'hon Ingram, a Floyd Mayweather protege who has been dubbed 'the next Mayweather' by tonight's co-headliner himself.
Ingram is asked whether that billing is true after the fight. "Definitely – he is the next Floyd Mayweather," shouts an insistent fan in the crowd.
🗣️ "I'm ready to knock that b**** out!"@TommieLHHATL is looking for a KO tonight vs @missnatalienunn 💥#MayweatherChalmers | O2 Arena | @The_ZeusNetwork pic.twitter.com/1kOyiaOf5J

— Front Row Fight Series (@FrontRow_FS) February 25, 2023
9.15 p.m. GMT: What happens when a fighter gets knocked out in an exhibition match?
Antonio Zepeda, who's unbeaten in six fights, has just taken out Christopher 'Pretty Boy' Lovejoy, a 39-year-old with a 20-1 record who once shared a public spat with Tyson Fury.
Lovejoy was taken down with a relatively harmless-looking jab to the body before taking a knee and seeing the referee wave the contest off.
"I took it seriously but I could have trained harder," Zepeda says afterwards, thanking Lovejoy for taking the fight at short notice.
"It's an exhibition, so there are no winners, no losers and no draws – but I did stop him, and I suppose that's all that matters."
Meanwhile, here are some shots from the women's bout that kicked off tonight's card.
🔥 What a way to kick off tonight's show!@sammyjoluxton1's boxing debut is in the books, with her and Hayley Barraclough starting the event in style 🙌#MayweatherChalmers | O2 Arena | @The_ZeusNetwork pic.twitter.com/wQ9A1ryTIE

— Front Row Fight Series (@FrontRow_FS) February 25, 2023
9 p.m. GMT: Kevin 'Thunderstorm' Johnson, who signed to Mayweather's team in 2021, and MMA fighter Mike 'Pretty Boy' Hales have just traded leather for three two-minute rounds.
It might not greatly surprise you to hear that Johnson looked slicker, while Hales had the bravery and durability you'd expect from a man in his discipline.
"Not really," Johnson says when he's asked what impressed him about his less experienced opponent, who he is keen to praise, in fairness. "My defence was on point."
8.40 p.m. GMT: British Muay Thai star Sammy-Jo Luxton and Welsh MMA fighter Hayleigh Heather have just put on a scrap to begin the action.
"It's such a crazy experience to be boxing in the ring that Floyd Mayweather is about to step into," says Heather, sitting alongside Luxton afterwards. "It's every boxer's dream. I was expecting a tough fight and that's what I got."
Luxton has just signed for the Professional Fighters League, which is beginning its Europe series in Newcastle in March.
"This was good experience to step up to the main stages," says Luxton. "I stepped up well, I thought – so I'm ready for the PFL. We showed what mixed martial artists can show in the boxing ring."
You can read The Sporting News' exclusive interview with Luxton here.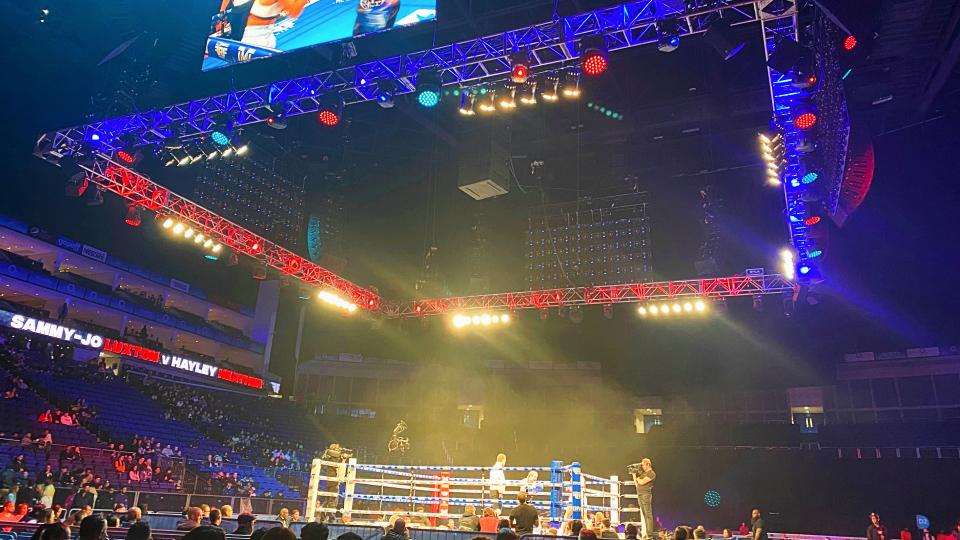 8 p.m. GMT: The show is ready to get underway here in London…
🔥 𝐈𝐓'𝐒 𝐅𝐈𝐆𝐇𝐓 𝐍𝐈𝐆𝐇𝐓 🔥@FloydMayweather vs @AaronCGShore is going down 𝐓𝐎𝐍𝐈𝐆𝐇𝐓 live at the O2 💥@LaurenAlexis_x is be on the scene provding backstage access and live updates 🎬#MayweatherChalmers | Feb 25 | O2 Arena | @The_ZeusNetwork pic.twitter.com/Ild5jBZKPi

— Front Row Fight Series (@FrontRow_FS) February 25, 2023
7.30 p.m. GMT: Don't forget to give our dedicated Twitter and Instagram fight channels a follow for news, analysis and features from the world of boxing, MMA and beyond.
They're your essential companions to all the action.
📅 ON THIS DAY IN 1964, @MuhammadAli TKO's Sonny Liston in the 7th round #boxing 🇺🇸🥊🇺🇸

📸Neil Leifer pic.twitter.com/agiT5cq4ZT

— Sporting News Fights (@sn_fights) February 25, 2023
7 p.m. GMT: The ring announcer is currently testing the microphone at the O2 Arena, where Floyd Mayweather will fight in the UK for the first time.
The first bout of this evening's card is expected to take place at around 7.20 p.m. GMT. In the meantime, you can read our interview with Aaron Chalmers on Sportingnews.com.
6.30 p.m. GMT: Floyd Mayweather's given fans a chance to vote for the boots he should wear in the ring tonight.
Scroll right below to see the options on offer…
6 p.m. GMT: Hello and welcome to The Sporting News' coverage of Floyd Mayweather's latest curious return to the ring when he fights UK reality TV star and MMA fighter Aaron Chalmers!
'The Joker' believes that his experience in sustaining and dishing out damage make him more of a threat than Mayweather's previous opponents.
"Some of the people he's fought, any twitch, and they've been panicking, s—— themselves," Chalmers told The Sporting News.
"A little bit too much respect. You know you're going to get punched in the face — you're f—— in a boxing match. That's one thing I can deal with, I know I'm going to get punched. I'll take three punches if I can land one. I'll take that the whole fight — I'll be more than happy."
The main card starts around 2 pm. ET | 7 p.m. GMT | 6 a.m. AEDT.
When is Floyd Mayweather vs. Aaron Chalmers?
Date: Saturday, February 25 | Sunday, February 26
Start time: 2 pm. ET | 7 p.m. GMT | 6 a.m. AEDT
Main event: 5 p.m ET | 10 p.m. GMT | 9:30 a.m. AEDT (approx.)
Mayweather vs. Chalmers takes place on February 25. The main card is expected to start around 2 pm. ET | 7 p.m. GMT | 6 a.m. AEDT. Both fighters should make their way to the ring around 5 p.m ET | 10 p.m. GMT | 9:30 a.m. AEDT, depending on how long the undercard fights last.
MORE: MMA star Sammy-Jo Luxton on rise to Mayweather-Chalmers show
How to watch Floyd Mayweather vs. Aaron Chalmers
| | | |
| --- | --- | --- |
| Country | Date | Channel + Live Stream (main card) |
| United States | Sat. Feb 25 | Zeus Network |
| United Kingdom | Sat. Feb 25 | Zeus Network |
| Australia | Sun. Feb 25 | Zeus Network |
Fight fans can watch Mayweather vs. Chalmers through the Zeus Network.
Floyd Mayweather vs. Aaron Chalmers price: How much does the card cost?
Viewers in the UK can pre-order the fight for £24.88. It's $29.99 in the US, $40.16 in Canada and $43.30 in Australia.
MORE: Mayweather vs. Chalmers: What is the Zeus Network?
Floyd Mayweather vs. Aaron Chalmers fight card
Floyd Mayweather vs. Aaron Chalmers (Exhibition)
Natalie Nunn vs. Tommie Lee
Ulysses Diaz vs. Khalas Karim (Cruiserweight)
J'Hon Ingram vs. Meeks Kastelo (Lightweight)
Antonio Zepeda vs. Christopher Lovejoy (Heavyweight)
Kevin Johnson vs. Mike Hales (Super welterweight)
Sammy-Jo Luxton vs. Hayley Barraclough (Light heavyweight)