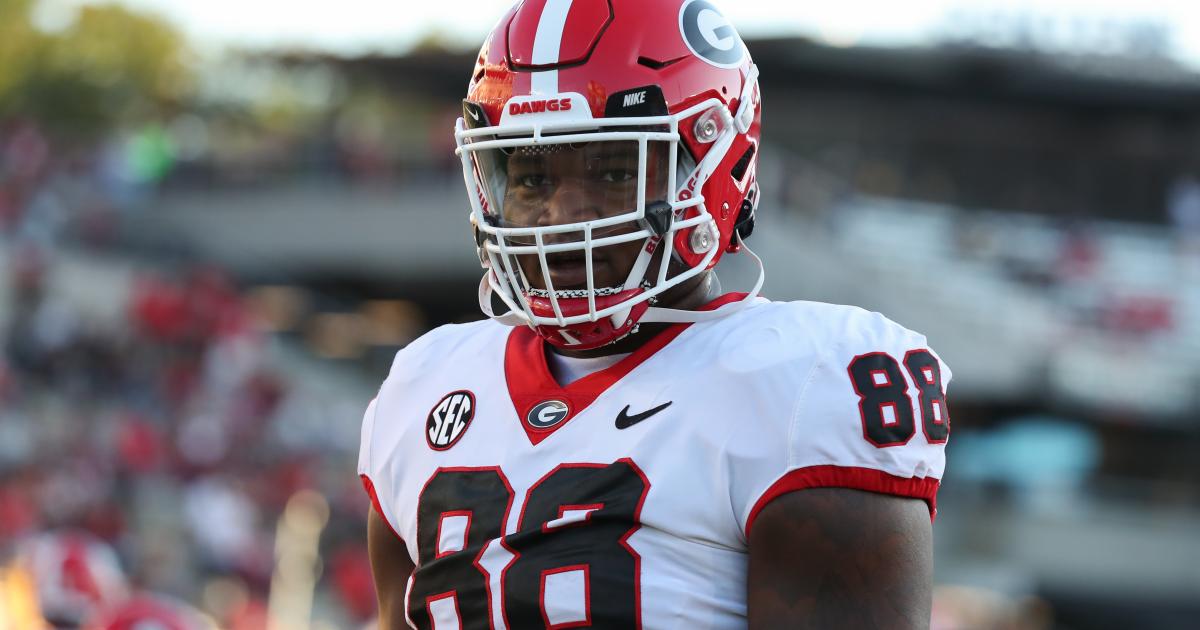 If Jalen Carter's draft stock has been affected by his offseason controversies, his agent Drew Rosenhaus isn't listening.
According to NFL Network's Ian Rapoport, the former Georgia defensive tackle is only going to visit with teams picking in the top 10 in the NFL Draft. Even teams considering trading into the top 10 must reportedly do so before speaking to Carter.
Carter, largely considered a top-five pick before he was charged with being involved with street racing that led to the deaths of Chandler LeCroy and Devin Willock, left the NFL Combine before returning and then ran drills at Georgia's pro day. Issues at the pro day have further raised questions about his draft stock.
"[Carter's] on a visit with the Chicago Bears today," Rapoport said Monday. "They pick No. 9. He's also visited the Philadelphia Eagles, also in the top 10."
MORE: Raiders, Titans 'exploring' trade up to No. 3 pick with Cardinals, per report
Regarding Carter's declinations, Rapoport said he spoke to Rosenhaus:
"[Rosenhaus] told me he has declined several invitations from teams outside the top 10 to host Carter on a visit," Rapoport said. "This would be interesting because this would indicate in the eyes of Rosenhaus based on his information that he believes Carter is going in the top 10. He told me has confidence that is going to be the case. Now if a team does end up trading into the top 10 then he will have Carter visit there."
From NFL Now: #UGA DT Jalen Carter is turning down pre-draft visits from teams outside the Top 10, as his agent Drew Rosenhaus is confident that's where he's going. If a team trades into the Top 10 before the draft, he would be open to visiting them. pic.twitter.com/kf7iQCN8wO

— Ian Rapoport (@RapSheet) April 3, 2023
For all of Rosenhaus' notoriety, his info generally tends to be good. He's one of the most popular agents in the NFL for a reason. With that being said, Rosenhaus also deals in leverage, which could also be in play.
2023 NFL Draft order top 10
The Panthers shook up the top 10 in the draft, trading up to No. 1 from No. 9 and swapping picks with the Bears.
Carolina and the Texans are almost assured to pick quarterbacks at Nos. 1 and 2. After that, the Cardinals pick before the Colts also possibly look for a QB of future.
Here's a look at the top 10 as it stands.
| | |
| --- | --- |
| Pick | Team |
| 1 | Carolina Panthers |
| 2 | Houston Texans |
| 3 | Arizona Cardinals |
| 4 | Indianapolis Colts |
| 5 | Seattle Seahawks |
| 6 | Detroit Lions |
| 7 | Las Vegas Raiders |
| 8 | Atlanta Falcons |
| 9 | Chicago Bears |
| 10 | Philadelphia Eagles |
BIG BOARD: SN's updated list of top 140 players for 2023 NFL Draft
Jalen Carter mock drafts
Rosenhaus has his own information. Here's a look at where various experts see Carter going in this year's draft.
Vinnie Iyer, Sporting News: Iyer currently has Carter going fringe top 10 to the Eagles with the No. 10 pick. Carter would join fellow Georgia DT Jordan Davis on the interior. You can see the full mock here.
Todd McShay, ESPN: McShay, who reported Carter had character concerns before news of him being charged dropped, has Carter going No. 12 to the Texans with their second first-round pick in his latest mock, which was released in March. That can be found here.
Ryan Wilson, CBS Sports: Wilson has Carter going eighth to the Falcons in his latest mock, putting him ever-so-slightly higher on the tackle. Here's a look at Wilson's latest.
The pattern is experts see Carter going right around 10, rather than consensus top 10. The picture around Carter will become clearer as the draft approaches. But for now Rosenhaus appears to like the tackle where he is.