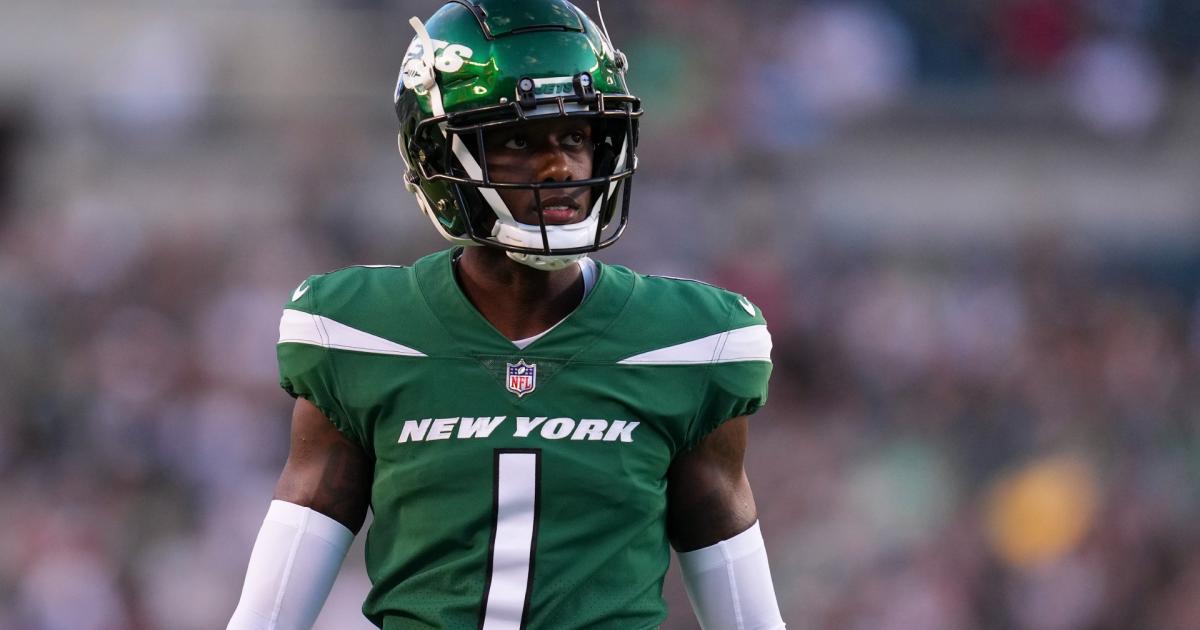 You can never have too much Sauce.
Jets cornerback Ahmad "Sauce" Gardner, who earned Defensive Rookie of the Year honors to go along with a first-team All-Pro selection in 2022, has already established himself as one of the NFL's brightest personalities. From donning a cheesehead after vanquishing the Packers to getting chummy with superstars like Kevin Durant, the sky seems to be the limit for Gardner's crossover appeal.
One year after starring at the NFL Combine, Gardner returned to Indianapolis on Friday, this time as a guest broadcaster. He appeared during NFL Network's coverage of defensive back drills, sitting between Rich Eisen and Daniel Jeremiah.
MORE: Follow live updates, highlights from NFL Combine workouts
Gardner dropped a number of gems as he showcased his football brain and his personality. He even cut through some of the monotony of the drills with his signature saucy humor.
He dipped into his bag of stories as well, telling Eisen and Jeremiah about his pre-draft interview with Seahawks coach Pete Carroll. Suffice to say, it was thoroughly entertaining:
Sauce Gardner says his most uncomfortable pre-draft interview was with the Seahawks with Pete Carroll being too close to him and cutting him off 😯 pic.twitter.com/LSL7lZjOyL

— Optimistic Jets (@OptimisticJets) March 3, 2023
That wasn't all. Gardner put a flag in the sand for Mississippi State cornerback Emannuel Forbes. Some doubt the 166-pound Forbes' future prospects, but Gardner isn't one of them. He offered some words of encouragement.
Daniel Jeremiah "He's 166lbs"

Sauce Gardner: "That don't matter, that don't matter"

DJ: "He gets his hands on the ball"

Sauce: "and that's all that matters🤷🏻‍♂️"

😂😂😂

— Matt Valdovinos (@MVScouting) March 3, 2023
Forbes proceeded to shine in the 40-yard dash, posting the joint third-best time (4.35 seconds) of any defensive back. Talk about calling your shot.
MORE: D.J. Turner wows NFL scouts with historic 40-yard dash at NFL Combine
Gardner put his football brain on display again when watching Oklahoma punter Michael Turk race down the sideline. Gardner correctly predicted Turk's 40 time down to the hundredth of a second, a pretty impressive feat, all things considered.
Sauce Gardner correctly guessed Michael Turk's 40-yard dash. pic.twitter.com/BQVG9LhAcf

— Arye Pulli (@AryePulli) March 3, 2023
The good times continued to roll as the day wore on. Gardner reminisced about his combine, which he capped with the most delicate of kisses to the crowd. Let's just say Eisen and Jeremiah seemed thoroughly pleased at his recounting of the day.
the kiss to the crowd gave it away 😂😂@iamSauceGardner on @nflnetwork rn 👀 pic.twitter.com/ZGC5yYwvq1

— New York Jets (@nyjets) March 3, 2023
Eisen, an unabashed Jets fan, shared an unusually strong chemistry with Gardner. The duo even posed for a selfie that seems poised to break the internet. Peep all the ice Gardner is sporting; he's never caught lacking.
guys being dudes at the #NFLCombine pic.twitter.com/NHnt4NfeYn

— New York Jets (@nyjets) March 3, 2023
In all, it was a 10/10 performance for Gardner, who showed all the tools to be a capable television performer going forward. Football may be his calling, but calling football doesn't seem too far behind, certainly not after his showing in the booth.
https://t.co/v8dwp3m2MX pic.twitter.com/bTq5zvl0au

— New York Jets (@nyjets) March 3, 2023