Ahead of the 2023 Women's World Cup, fans and media around the world bought high on the England national team.
The Lionesses were coming off a triumphant performance at Euro 2022 and seemed a worthy challenger to not only the European elite, but to the USA, the No. 1-ranked side and an established global power with decades of World Cup success.
Then, injuries struck. Beth Mead and Leah Williamson, two vital parts of the European championship side, went down ahead of the FIFA tournament, leaving the squad licking its wounds. The pre-World Cup friendlies showed signs of weakness, as they played to a scoreless draw with Portugal and fell to defeat against co-hosts Australia.
Still, they were established as second-favourites ahead of the competition and were still generally thought of as the nation that could best thwart the U.S. push for a historic third straight FIFA title.
After a narrow 1-0 win over Haiti to open World Cup action, in which the attack was thorough but missing the final ball, the outlook was cautiously optimistic moving further into the group stage. However, with the squad already thinned a bit due to key injuries, they lost the one player they could ill afford to be without — midfield lynchpin Keira Walsh.
MORE: The increase in serious knee injuries in women's football is greatly concerning
Keira Walsh injury latest news, updates
In the 38th minute of England's second Group D match against Denmark, Walsh went down with a non-contact injury, and immediately everyone watching feared the worst. Sliding to stop the ball, her studs got stuck in the ground, causing her knee to buckle underneath her hips in a very awkward manner.
Even Walsh appeared to know she was in trouble, aggressively shaking off attempts by Denmark players to help her up and immediately motioning to the sideline with a throat slash gesture that she could not continue. She appeared to say to teammates, "I've done my knee" as she was stretchered off the field, her head in her hands.
"We don't know yet so we can't make any assumptions," said head coach Sarina Wiegman after the match. "Let's wait until we have a diagnosis then I can tell you."
Yet they all seemed to know, even without knowing. "It looks bad," said former England striker Ellen White to the BBC. "You saw as soon as it happened she knew that it didn't look good. I'm just devastated for Keira. She has been one of the best, if not the best player, in this England side."
However, on July 29, England issued an update confirming the injury wasn't as serious as first feared and she hasn't ruptured her ACL.
They confirmed she would however miss their final group match against China on Tuesday and she will now be assessed by medical staff.
MORE: USA international Mallory Swanson speaks after missing Women's World Cup with knee injury
Watch in USA:
Prayers up for Kiera Walsh 🙏🏴󠁧󠁢󠁥󠁮󠁧󠁿 pic.twitter.com/SuSGFlX6PU

— FOX Soccer (@FOXSoccer) July 28, 2023
Watch in UK:
Keira Walsh was stretchered off with a knee injury against Denmark 🤕

She knew right away that she couldn't continue 💔#FIFAWWC pic.twitter.com/P6u7kIpANn

— BBC Sport (@BBCSport) July 28, 2023
Can England win Women's World Cup without Keira Walsh?
With Mead and Williamson both suffering ACL injuries in the past six months, a third serious knee injury to a key player would be a devastating blow to this England side. Luckily, Walsh hasn't injured her ACL so hopefully she can recover for the Round of 16.
Many consider the 25-year-old midfielder, who made 118 appearances for Manchester City before a world-record move to Barcelona last summer, the best player on this England side — or, at least, the most important.
As the holding midfield, Walsh doesn't really do much besides one thing — pass the ball. And that she does better than almost anyone in the world.
Through over 2,000 minutes with Barcelona last year in the Spanish top flight and Champions League, Walsh was in the top five percentile of midfielders in the world for the following categories: Passes attempted (99th percentile), pass completion (99th), passing distance (97th), passes into the final third (96th), passes received (98th), touches (98th), and fewest miscontrols (95th), while being also in the 89th percentile for progressive passes, and the 92nd percentile for carries.
None of those are flashy numbers, but it proves one thing — Walsh is pivotal to everything both England and Barcelona do. Every possession both teams play flows through her.
Against Haiti, a game in which England created 21 shots, 11 on target, but couldn't find an open play goal, Walsh had a game-high 83 touches, losing possession just seven times, an exceptional total. She hit on five of seven long balls and won 10 of her 14 ground duels.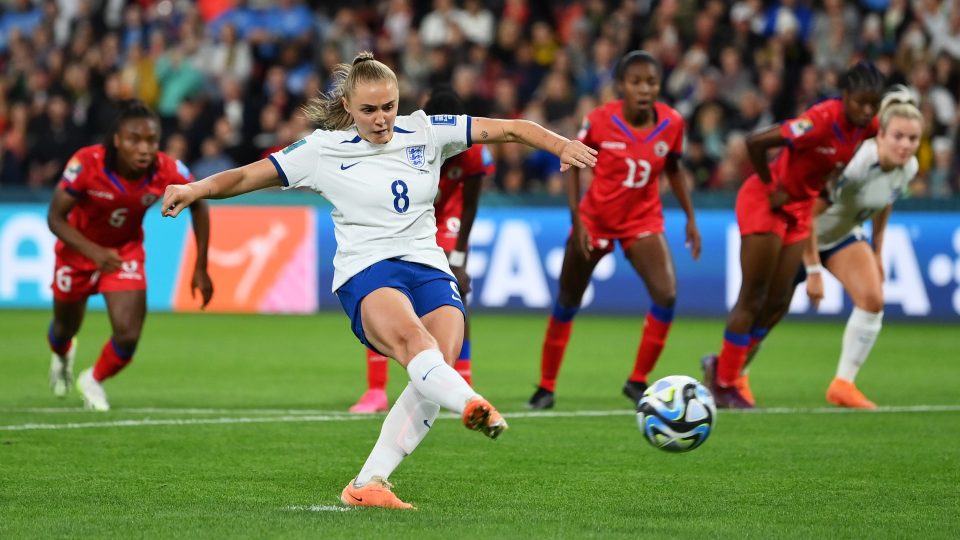 In the 1-0 win over Denmark, Georgia Stanway moved back into Walsh's distributional role, which has a trickle-down effect. Bayern Munich midfielder Stanway naturally plays a far more active role in the final third.
Laura Coombs replaced the injured Walsh and lined up alongside Ella Toone in attacking midfield, where England lacked their usual creativity.
There will be a chance for Coombs or Jordan Nobbs to show what they can do if Stanway is viewed as the solution for the rest of the tournament in front of the back four but it's clear that nobody can do what Walsh does.
England must trudge on without her in their next game as they seek to address the pre-existing problem of struggling to break down opposition defences. A Women's World Cup success suddenly feels like much more of a long shot.