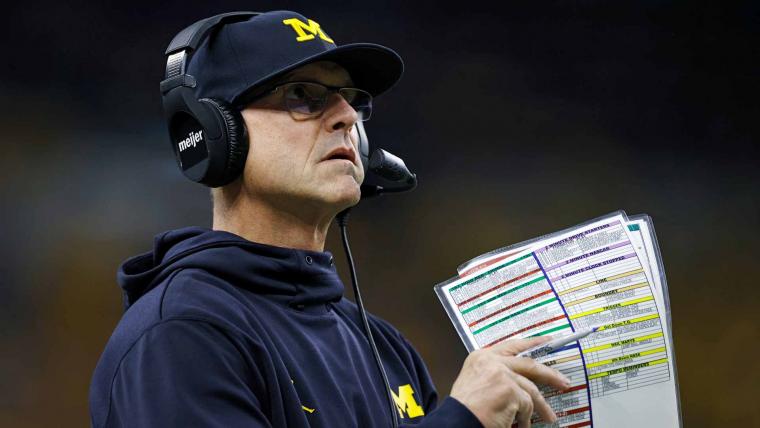 Michigan has had little trouble on the field this year, stifling opponents all season on the way to an undefeated start, but the Wolverines have done so while dealing with a series of off-field distractions.
The latest: Michigan is being investigated by the NCAA for allegedly stealing opponents' signs using methods banned by the governing body, a charge that the program has downplayed.
The Wolverines already found themselves in hot water this season when coach Jim Harbaugh faced discipline in connection with an NCAA investigation about a low-level recruiting violation. Whether Harbaugh lied to investigators became a bigger focus of the probe than the recruiting violation itself.
That investigation remains ongoing, though Michigan tried to end the possibility of further discipline by imposing on Harbaugh its own three-game suspension.
MORE: What should the punishment be if Michigan broke rules?
Here's all you need to know about the allegations and the status of the investigation that threatens to derail a national title contender.
Michigan sign-stealing allegations
The NCAA is investigating whether Michigan scouted opponents in-person in an effort to steal signs, Yahoo Sports reported Oct. 19.
Notably, sign stealing is allowed if it's not done using electronics to relay information to players or coaches. Programs cannot, however, send anyone to scout a future opponent in-person within the same season. In-person scouting of opponents has been outlawed since 1994.
According to Yahoo, two of Michigan's opponents reported to the NCAA that they were concerned about the Wolverines potentially stealing signs.
That led observers to unearth a curious halftime interview by Rutgers coach Greg Schiano, whose Scarlet Knights faced Michigan in September.
"There are some things going on that aren't right as well, so we'll talk about how to handle it," Schiano told the Big Ten Network with Rutgers trailing, 14-7, at halftime.
The Athletic reported Oct. 19 that Michigan State initially considered not playing the scheduled Oct. 21 game against the Wolverines "out of concern for health and safety" of the team's players, but the program decided to play as scheduled. Michigan won 49-0 in East Lansing.
MORE: First look at Sporting News midseason All-American team
NCAA investigation into Michigan football
The Big Ten released a statement Oct. 19 confirming the NCAA's investigation into Michigan.
"Late Wednesday afternoon, the Big Ten Conference and University of Michigan were notified by the NCAA that the NCAA was investigating allegations of sign stealing by the University of Michigan football program," the statement read,
NCAA bylaw 11.6.1 prohibits teams from in-season, in-person scouting of future opponents. "Off-campus, in-person scouting of future opponents (in the same season) is prohibited," the rule reads.
In addition to allegedly scouting regular-season opponents, Yahoo Sports reports, Michigan is being investigated for scouting "possible College Football Playoff opponents," though it's unclear which teams might have been observed by the Wolverines.
Since the Big Ten said it was only notified of the investigation on Wednesday, it seems the inquiry is in its early stages.
While the NCAA investigation persists, ESPN reported on Nov. 1 that Big Ten coaches want the conference to take immediate action. "Collectively, the coaches want the Big Ten to act — right now," ESPN reported, citing a source. The outlet added that a "vast majority" of coaches expressed their frustration on a call with the Big Ten.
Purdue coach Ryan Walters went public with his grievances, saying on his radio show, "What's crazy is they weren't allegations. It happened. There's video evidence. There's ticket purchases and sales that you can track back." Walters added that he "knows for a fact" Michigan scouted his team numerous times.
According to The Athletic's Nicole Auerbach, Big Ten commissioner Tony Pettiti met with Michigan president Santa Ono in Ann Arbor on Friday, Nov. 3.
Yahoo Sports reported on Nov. 6 that the NCAA shared its findings with the Big Ten, noting that they "do not connect the in-person scouting and recording of opponents' sidelines to Harbaugh." Still, the Big Ten handed down a penalty on Harbaugh on Nov. 10, a day before Michigan's game against Penn State.
Big Ten investigation findings
The Big Ten announced on Nov. 10 that it found Michigan violated the conference's sportsmanship policy by operating an "impermissible, in-person scouting operation over multiple years." The conference's statement says the scheme gave Michigan an unfair competitive advantage.
The conference did not, however, find evidence that Harbaugh was aware of the scheme. Despite that, Harbaugh was suspended for the remainder of the regular season, including games against Penn State and Ohio State, due to his position as the head of the football program.
Harbaugh is permitted to be with the team during the week but cannot be on the sidelines during games. Michigan released a statement shortly after the announcement expressing its frustration with the suspension and revealing plans to fight the ban in court.
Who is Connor Stalions?
According to ESPN, Michigan off-field analyst Connor Stalions has become a "person of interest" to the NCAA amid the investigation. ESPN says investigators even looked to gain access to Stalions' computer as part of the inquiry.
Stalions is a retired captain in the United States Marine Corps and is considered a "low-level staffer" at Michigan, but he reportedly is a central part of the NCAA's probe into the football program.
According to ESPN, "it was known in the building that [Stalions] spent much of his time deciphering opponents' signals, often watching television copies of opponents' games."
Despite Stalions' working in the recruiting department, he has posted images of himself standing next to two former Michigan defensive coordinators on the sideline during games.
On Friday, Michigan announced that Stalions had been suspended with pay.
Michigan Athletics suspended Connor Stalions today, with pay, pending the conclusion of the NCAA investigation

— Brett McMurphy (@Brett_McMurphy) October 20, 2023
MORE: Why Jim Harbaugh was suspended to start 2023 season
Yahoo Sports' Ross Dellenger reported Oct. 20 that other Big Ten coaches were keenly aware of the alleged scheme and Stalions' involvement, with one anonymous coach telling the outlet, "I once told [Stalions], 'We know what kind of s— you are doing and it's f— up.'"
While sign stealing is not against NCAA rules, there are strict limitations regarding what a program can use. The NCAA is looking into whether Stalions or anyone else associated the Wolverines used banned methods to steal opponents' signs.
ESPN reported Oct. 23 that Stalions bought tickets "for more than 30 games at 11 Big Ten schools over the past three years," which sheds more light on his potential role in the case
Sources: Michigan staffer Connor Stalions bought tickets for more than 30 games at 11 Big Ten schools over the past three years. Also, video evidence of sideline taping is expected to be sent to the NCAA this week, caught by stadium surveillance this year. https://t.co/8wmMRppR7u

— Pete Thamel (@PeteThamel) October 23, 2023
ESPN's Dan Murphy further reported that Stalions bought tickets on both sides of Ohio Stadium for the Week 8 Penn State vs. Ohio State game, but they went unused after word of the investigation broke last week.
The Stalions revelations sent sleuths combing through old game footage for suspicious behavior, with one clip from the 2022 Michigan-Ohio State game drawing significant attention on social media. In a post by Adam King of WBNS television in Columbus, Stalions — standing next to Wolverines defensive coordinator Jesse Minter — appears to be looking intently at the opposite sideline, then begins signaling as coaches and players around him follow suit.
Video from last year's OSU vs Michigan game appears to show Connor Stalions who is at the center of the alleged sign stealing operation standing next to the UM defensive coordinator.

See their pre-snap interaction:

Here is better quality video and story https://t.co/aOX1HCRdmN: pic.twitter.com/Q6nNYt2t9x

— Adam King (@AdamKing10TV) October 24, 2023
Additionally, Central Michigan confirmed that it is investigating the possibility that Stalions appeared on its own sideline in Chippewas gear during a game against Michigan State after footage of an unidentified person in sunglasses was unearthed.
Stalions resigned on Nov. 3, citing a desire not to cause distractions for the program.
What is sign stealing in football?
Knowing Michigan is being investigated for the way it allegedly stole signs, rather than sign-stealing itself, what exactly is sign-stealing?
Michigan is accused of scouting future opponents not to get a feel for how they play, but to figure out which signals correspond with which plays. By keeping an eye toward the sideline or an eye on the field and figuring out which signal corresponds with which play, the Wolverines defense could know what play an opponent is about to run and gain an artificial advantage.
If a team is making its signals obvious, there are no rules against their opponent deciphering those signals and using it as an advantage. There are, however, rules against both in-person scouting of future opponents and using video to record signals.
According to the NCAA rule book, "any attempt to record, either through audio or video means, any signals given by an opposing player, coach or other team personnel is prohibited."
If Michigan is found to have used illegal means to capture the signals of future opponents, the program could face discipline from the NCAA.
Jim Harbaugh, Michigan statements
Harbaugh released a statement Oct. 19 claiming he does not have "any knowledge or information regarding the University of Michigan football program illegally stealing signs."
Harbaugh added that he never directed any staff member to scout off-campus and is not aware of anyone on the staff doing so.
Jim Harbaugh statement pic.twitter.com/LX1C4twrMM

— Clayton Sayfie (@CSayf23) October 19, 2023
While Harbaugh claims to have had no knowledge of any sign-stealing system, the NCAA can still hold him accountable if the allegations are verified.
A head coach is "presumed to have knowledge of what is occurring in his program and therefore, can be responsible for the actions of his staff and individuals associated with the program," according to NCAA bylaws.
MORE: Could Texas A&M fire Jimbo Fisher despite buyout?
The scenario has applied in other sports and leagues as well. In baseball, then-Astros manager A.J. Hinch and GM Jeff Luhnow were handed one-year suspensions in 2020 by MLB after an investigation into a sign-stealing scandal. Despite the bans, the final report found no evidence Luhnow was aware of the scheme and no evidence that Hinch organized or even endorsed it.
Still, because of their positions, they faced serious discipline. Harbaugh, who was already the subject of an NCAA investigation, may find himself in a similar situation.
Michigan released a brief statement of its own through a spokesperson, claiming the university is "fully cooperating" with the investigation and adding that the probe will not affect the team's game against Michigan State.
Michigan statement from Rick Fitzgerald, university spokesperson: pic.twitter.com/4xH6WkUXBW

— Ross Dellenger (@RossDellenger) October 19, 2023
After Harbaugh was suspended on Nov. 10, Michigan released a statement expressing frustration with the decision and announcing the school's intention to seek a court order staving off the ban.
NEWS: Michigan says it intends to seek a court order with Jim Harbaugh preventing disciplinary action from taking effect.

Full statement: pic.twitter.com/p92yUCLsTX

— Matt Fortuna (@Matt_Fortuna) November 10, 2023
While the Wolverines continue to dominate on the field, it doesn't appear as if the questions around their program will disappear anytime soon.