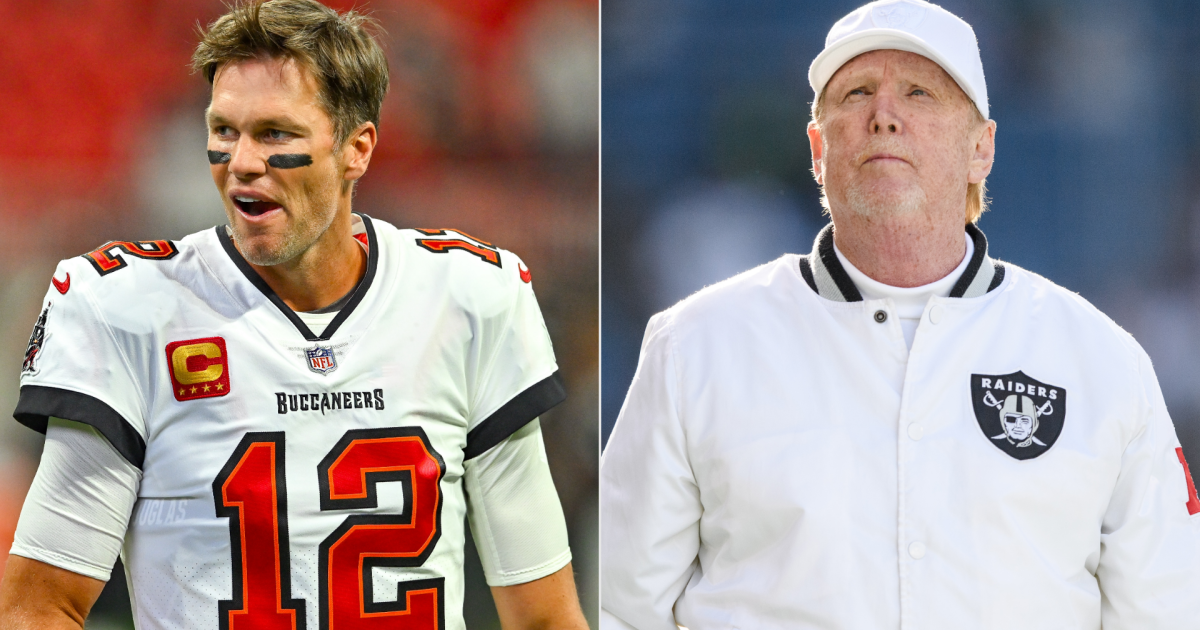 Many speculated Tom Brady could join the Raiders this offseason. Now, it appears he might — but not as a player.
In May, ESPN reported that Brady was in "deep talks" to purchase an ownership stake in the Raiders, potentially setting up a partnership with owner Mark Davis for the second time. Brady already joined Davis as part-owner of the WNBA's Las Vegas Aces in March.
Recent reports indicate that the paperwork has been filed for Brady to join the ownership group, but it's unclear when the deal may be finalized and approved. Still, it's another step closer to Brady owning a franchise he once owned on the field.
Brady announced his retirement from football in February, but he's predictably had a hard time staying away from the game. His first retirement lasted only 40 days last offseason, and he already inked a massive deal in 2022 to serve as Fox's lead NFL color analyst for 10 years. There is now a real chance the former Patriots and Buccaneers quarterback gets involved with a third NFL franchise.
MORE: Tom Brady purchases ownership stake in WNBA's Las Vegas Aces
Here's what you need to know about why Brady might take on an ownership role with the Raiders and what it means for his Fox contract.
Tom Brady Raiders ownership, explained
While Brady would need the approval of at least 24 owners even to purchase a minority stake in the Raiders, he "would not have any operational control or authority over the club in business or football matters," according to ESPN.
While no decision on Brady joining the ownership group will be made at the NFL's spring meetings, the paperwork has been submitted to league offices for approval. It's unclear when a deal will be finalized, but the "ball is rolling" on co-owner Brady.
The sale of a minority share of the @Raiders to ex-Patriots and Bucs QB @TomBrady has been agreed to and submitted to the NFL for approval. Won't be done at the spring meeting but ball is rolling on it.

(Brady is already in business w/Vegas owner Mark Davis, with the WNBA Aces.)

— Albert Breer (@AlbertBreer) May 22, 2023
It isn't much of a surprise to see Brady try his hand as a minority owner. Brady nearly joined the Dolphins in the same role last offseason, which would have put him on a path to also serve as Miami's quarterback, but the deal became unfeasible after Brian Flores sued the Dolphins for discrimination.
Brady also has plenty of connections to Davis. Aside from partnering with Davis as a minority owner of the Aces, Rob Gronkowski and former Raiders TE Darren Waller have both said they believed Brady was set to sign with the Raiders in 2020 before Jon Gruden stepped in and decided to continue on with Derek Carr. Waller said he believed Brady's arrival was "a lock."
That led many to speculate Brady could sign with the Raiders this offseason as Las Vegas cut ties with Derek Carr, but the seven-time Super Bowl champion opted to retire.
MORE: Dates & times for all games on Raiders' 2023 schedule
ESPN reports Las Vegas is a city Brady "frequently visits," and the current iteration of the Raiders features several Brady confidants. Head coach Josh McDaniels had two stints as Brady's offensive coordinator, while GM Dave Ziegler worked in the Patriots' front office before accepting the job in Las Vegas.
While it likely isn't a long-term solution, Brady's former backup Jimmy Garoppolo is also the Raiders' starting quarterback.
If a deal is agreed upon and approved, Brady will have an investment in the Raiders without any day-to-day responsibilities running the team.
Tom Brady Fox contract
ESPN reports Fox has "blessed" the potential agreement between Brady and the Raiders so that it will not affect his broadcasting contract.
Brady agreed to a 10-year, $375 million deal last year to serve as Fox's lead NFL color analyst, though the start date was pushed to the 2024 season after his retirement this offseason.
There is natural concern the two agreements could cause a conflict of interest for Brady, but Fox has been in a similar scenario before. The network kept Alex Rodriguez as a studio analyst even after the Yankees hired him as a special advisor in 2018. While the role didn't last very long for Rodriguez, he wasn't involved enough to knock him off the air even as the Yankees played in the postseason he analyzed.
Likewise, since Brady wouldn't be involved in day-to-day operations with the Raiders, Fox appears to have no problem with the future Hall of Famer still calling games for the network.
MORE: Tom Brady calls report that he might not end up broadcasting for Fox 'FakeNews'
Tom Brady net worth
Barron's estimates Brady's net worth as $512 million. Brady made about $332 million in contract earnings across his 23-year NFL career, and he's made plenty more through endorsement deals as one of the highest-profile athletes in America.
While there has been open speculation about whether Brady will go through with his massive contract to call games for Fox, it's difficult for anyone to turn down a $37.5 million annual salary. Brady only made more than $30 million in one of his 23 seasons, so even for Brady, the Fox deal represents a gigantic payout.