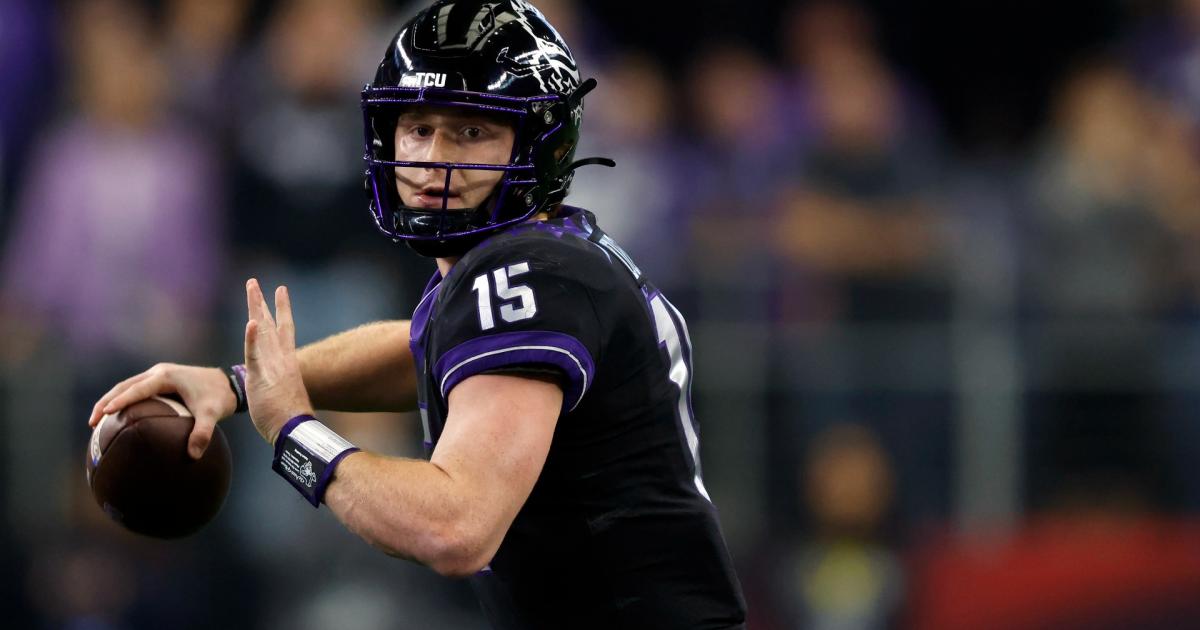 All glory to Hypnotoad.
TCU quarterback and NFL hopeful Max Duggan had a stellar season for the upstart Horned Frogs in 2023. After starting the year as the team's QB2, Duggan took over for an injured Chandler Morris and proceeded to have one of the best offensive seasons in TCU history, helping guide them to a national championship game appearance.
That, though, doesn't mean that Duggan is a surefire NFL prospect. In fact, anything but.
Duggan might not get a phone call this draft cycle, and if he does, it'll be on Saturday at some point. While he overperformed this season, Duggan doesn't have a lot of traits that the top QBs have, and that some of the other project QBs in this year's draft do.
TSN'S NFL DRAFT HQ
Live picks tracker | 7-round mock draft | Top 200 big board
Here's what to know about Duggan:
Where will Max Duggan be drafted?
Duggan will have to wait a long time to hear his name called — if it's called at all. Duggan isn't considered to be a top passer in this year's draft, largely because his lack of true arm talent and his inconsistencies as a passer. Duggan also operated in an offense that played to his strengths a bit, but is friendly for quarterbacks.
Sonny Dykes' Air Raid scheme has a few wrinkles to it. It's very balanced, with an equal focus on running and passing. That means that Duggan may be something of a project at the next level, in order to operate an NFL scheme and to learn to process defenses better. Put that all together, and that means he has a standing as as a Day 3 pick, or a priority undrafted free agent.
Duggan, though, does have the mental makeup to stick as a backup QB in the league. Scouting reports have pegged Duggan as having an "elite" mental makeup, which can bode well for his chances of sticking in a backup role.
Here's what some prominent scouting reports have to say about Duggan:
Scrappy quarterback possessing the attitude, toughness and leadership that teams love. … However, he has limited arm strength and frequently forces receivers to break stride on deep balls and crossing routes. Duggan's intangibles give him a chance to become an NFL backup but his limitations as a passer cap his ceiling.
— Charlie Campbell, Walter Football
For the NFL, Duggan could be a backup quarterback. He is too inconsistent of a passer in terms of his accuracy and ball placement. Duggan aims throws and uses his strength to deliver the ball as opposed to being a natural thrower. However, he does have good instincts as a quarterback. … Duggan has drawn rave reviews for his intangibles as being a natural leader, very intelligent, tough, and a super competitor.
Overall, Duggan's pocket skills and downfield passing lack the necessary refinement for the NFL game, but he is a courageous competitor with dual-threat talent and calm confidence. He is an intriguing project for a patient NFL coaching staff.
MORE: Where will Stetson Bennett be drafted?
Max Duggan college stats
Duggan had a stellar season at TCU, a true breakout year, that resulted in earning several awards, including:
The Big 12 Offensive Player of the Year
First-team All Big 12
Johnny Unitas Golden Arm award
Second-team All-American
And he did it on the back of these numbers:
| Year | Games | Completion rate | Yards (Passing) | TDs (Passing) | INTs | Yards (Rushing) | TDs (Rushing) |
| --- | --- | --- | --- | --- | --- | --- | --- |
| 2019 | 12 | 53.4 | 2,077 | 15 | 10 | 555 | 6 |
| 2020 | 10 | 60.8 | 1,795 | 10 | 4 | 526 | 10 |
| 2021 | 10 | 63.9 | 2,048 | 16 | 6 | 352 | 3 |
| 2022 | 15 | 63.7 | 3,698 | 32 | 8 | 423 | 9 |