The throughline between country music and NASCAR is obvious to anyone who has had the pleasure of checking out one of the sport's countless broadcasts.
That relationship will be even more evident before Sunday's Daytona 500, because not only will there be a legion of country music fans in attendance, there also will be a songster adding his name to The Great American Race's glint history.
MORE: Watch Daytona 500 live with fuboTV (free trial)
That would be Breland, the 27-year old artist who's blending new-age rap with old-time country to craft a musical style all his own.
Not only has the musician sold millions of records, he also has fostered ties between hip hop and hillbilly, two genres that can feel far more disparate than their roots would have you believe.
Here's what you need to know about Breland, the artist NASCAR tapped to sing the national anthem at the 2023 Daytona 500: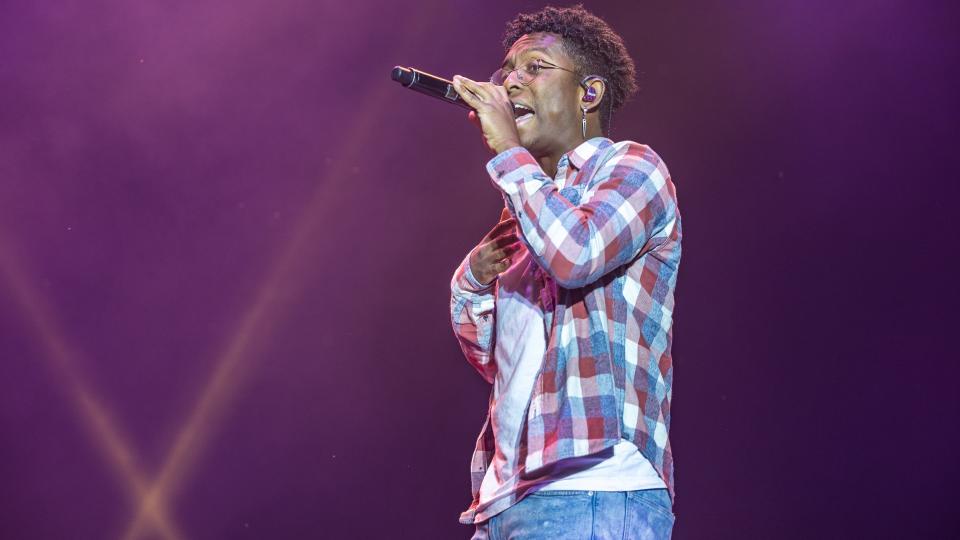 Who is Breland?
Among new-age artists, Breland's name may seem unfamiliar to race fans, but he has established quite the following among younger music fans by developing a tone and tenor all his own.
Breland initially came to prominence in Atlanta, earning placements with platinum recording artist Trey Songz, among others.
MORE: Daytona 500 lineup, starting order, pole based on qualifying results
He thrust himself into the national conscience with his 2019 track "My Truck," an ode to trucking across rural America.
The song mixed elements of hip hop production with the content one would expect from country, tethering the two styles to each other. Suffice to say, it was a mammoth hit; it has racked up more than 100 million streams.
That was only the start for Breland. He pieced together a poignant self-titled EP in 2020 that made numerous references to the racial unrest that descended on the United States throughout the year. The record climbed to the No. 48 on Billboard's country charts.
MORE: What to know about Floyd Mayweather's NASCAR team racing in Daytona 500
Breland's star has only risen since. He has gained praise not just as a singer but also a songwriter. He co-wrote two tracks with country music royalty Keith Urban and collaborated with Thomas Rhett for the 2022 track "Praise the Lord," one of the lead singles for his debut studio album, "Cross Country."
Below are some of Breland's biggest hits, as well as their accompanying lyrics:
You can drink my liquor
You can call my lady
You can take my money
You can smoke my blunt
Scuff these Jordans
You can say you hate me
You can call me crazy, but
Don't touch my truck (skrrt, skrrt)
Skrrt (yeah, yeah)
Skrrt
Don't touch my truck (brrp, yeah)
Skrrt (woo-oh)
Skrrt
Don't touch my

V8 engine with the windows tinted
Boy, we came from the bottom, got it out the mud
Whole block jumpin' 'cause the subs stay hittin'
If they roll up on me, know I keep one tucked (ooh, yeah)

Woo
Tell them boys come and get me
I be ridin' through the city
Young, rich and I'm pretty
Homie, don't get it twisted
Keep a semi in the hemi (oh)
Red cup full of Henny
My hitters come in plenties, for real

You can drink my liquor
You can call my lady
You can take my money
You can smoke my blunt
Scuff these Jordans
You can say you hate me
You can call me crazy, but
Don't touch my truck (skrrt, skrrt)
Skrrt (yeah, yeah)
Skrrt
Don't touch my truck (brrp, yeah)
Skrrt (woo-oh)
Skrrt
Don't touch my

Wood grain dash with the matte black finish
And it match my shawty with the big ol' butt
Know them boys soft 'cause they got hard feelings
You can try me if you wanna go and test your luck (woo)

Tell them boys come and get me (get me)
I be ridin' through the city
Young, rich and I'm pretty (yeah)
Homie, don't get it twisted (yeah)
Keep a semi in the hemi (in the hemi)
Red cup full of Henny (yeah, we drinking)
My hitters come in plenties, for real

You can drink my liquor
You can call my lady
You can take my money
You can smoke my blunt
Scuff these Jordans
You can say you hate me
You can call me crazy, but
Don't touch my truck
Skrrt
Skrrt
Don't touch my truck
Skrrt
Skrrt
Don't touch my

Woo, ooh, woo, ooh, woo, ooh
Don't touch my truck (woo, ooh)
Don't touch my truck
Everybody's got a problem, so do I
But we ain't gonna solve 'em on a Saturday night
I just put a paycheck in the bank
And I ain't hit the town in a minute to drink
You had one of them, one of those weeks
Stuck on repeat, I'll save you a seat

Come on down, swing on by
Bring whatever's been on your mind
Locals on tap and bottles on ice
Livin' on feel-good standard time
My card's on the bar, you got nowhere to be
If you don't come through, buddy, that's on you 'Cause the beer's on me
Yeah, the beer's on me
Ain't that right, Hardy?

Yeah, I'ma get a round or two for all I want
Just bustin' your back while you're cussin' the sun
And if your girl don't love you no more
Well, here's a tall-boy to cry in and it's been paid for
And if you're short on cash, say cheers
But don't sweat it, leave the sweatin' to the beer

And come on down, swing on by
Bring whatever's been on your mind
Locals on tap and bottles on ice
Livin' on feel-good standard time
My card's on the bar, you got nowhere to be
If you don't come through, buddy, that's on you 'Cause the beer's on me
Yeah, the beer's on me

Oh, oh
Oh (drink it down)
I like my drinks like my roof, on the house
We turnin' up, got double cups, the sun's goin' down
With lagers, I'm a boxer, yeah, I need 'bout twelve rounds
And I could be your sponsor if you like how that sounds
Tell me what you're drinkin', buckets for a Lincoln
I could cover you and me and everyone you're bringin'

Come on down, swing on by
Bring whatever's been on your mind
Locals on tap and bottles on ice
Livin' on feel-good standard time
My card's on the bar, you've got nowhere to be
If you don't come through, buddy, that's on you 'Cause the beer's on me (yeah)
Yeah, the beer's on me, the beer's on me
Gonna save you a seat (oh-oh-oh-oh) 'Cause the beer's on me

Come get a Bud heavy, Busch Light
Kill a cold Miller, Blue Moon, Red Stripe
Naturday, it don't matter to me 'Cause don't nothing taste better than free
Yeah, the beer's on me
If she get a shot of whiskey, she know how to throw it back
She turn up for Elvis Presley, told the DJ, "Throw it back"
She look better every Thursday, she don't have to throw it back
Shawty got me catching feelings, I just hope she throw it back

Throw it, throw it back
Drop it low, you can blame it on the Jack, ayy
Slow it down, girl, I'm tryna make it last, ayy
If you sexy and you know it, make it clap
Throw it, throw it, throw it back

I threw it on back
Nothing says summer like the way she make me feel (feel)
A tall glass of natural woman
I can tell that she keep it real (she keep it real, yeah)
A green light
She'll give it to you, gotta get it 'fore it turn red (ooh-hoo)
Hotter than a flame
I barely know her name, but I'm damn sure willing to bet (yeah)

If she get a shot of whiskey, she know how to throw it back
She turn up for Elvis Presley, told the DJ, "Throw it back"
She look better every Thursday, she don't have to throw it back
Shawty got me catching feelings, I just hope she throw it back

Throw it, throw it back
Drop it low, you can blame it on the Jack, ayy
Slow it down, girl, I'm tryna make it last, ayy
If you sexy and you know it, make it clap
Throw it, throw it

Better thank Jesus, making them peaches
Georgia Bulldog got me SEC-sick
She on that wave and I'm deep in
Tryna buy another round (throw it back)
Let me see the levee-breakin' Chevy, super heavy-duty
Toot-toot for the dude-dude, babe
Bubble-bubble, you been eating your McDoubles
And it's trouble for me

If she get a shot of whiskey, she know how to throw it back
She turn up for Elvis Presley, told the DJ, "Throw it back"
She look better every Thursday, she don't have to throw it back
Shawty got me catching feelings, I just hope she throw it back

Throw it, throw it back
Drop it low, you can blame it on the Jack, ayy
Slow it down, girl, I'm tryna make it last, ayy
If you sexy and you know it, make it clap
Throw it, throw it, throw it back (do it to 'em, Keith)

If she get a shot of whiskey, she know how to throw it back
She turn up for Elvis Presley, told the DJ, "Throw it back" (throw it back)
She look better every Thursday, she don't have to throw it back
Shawty got me catching feelings, I just hope she throw it back (hmm, won't you)

Throw it, throw it back
Drop it low, you can blame it on the Jack, ayy
Slow it down, girl, I'm tryna make it last, ayy
If you sexy and you know it, make it clap
Throw it, throw it

Throw it back
Drop it low, you can blame it on the Jack (on the Jack)
Slow it down, girl, I'm tryna make it last, ayy
If you sexy and you know it, make it clap
Throw it, throw it, throw it back
Mm
Bad habits, my second chances always turn into three and four
Late nights, all them back and forth fights finally turn into heartbreak war
I admit that I was immature and I was insecure
I took advantage for granted having my hand in yours
I don't know if I should say this but I can't make it worse
Baby, you can take this

For what it's worth
I hope that you're happy now and that you found what you didn't in me
For what it's worth
I'd trade everything I have for what I had, I know that talk is cheap
But for what it's worth
I done did some growing up, I ain't out there getting drunk
I can be what you deserve 'Cause now I see your heart, your mind, your every curve
And your love for what it's worth

God honest, I never wanted to be a memory that you wish you never made
Wish you never left, you were right I guess when you said we were better off this way 'Cause now you got me looking in the mirror and not just in the rear
I know that I can't make this right, but let me be clear
Girl, there's nothing I can say that you ain't already heard
Baby, you can take this

For what it's worth
I hope that you're happy now and that you found what you didn't in me
For what it's worth
I'd trade everything I have for what I had, I know that talk is cheap
But for what it's worth
I done did some growing up, I ain't out there getting drunk
I can be what you deserve 'Cause now I see your heart, your mind, your every curve
And your love for what it's worth

For what it's worth
I hope that you're happy now and that you found what you didn't in me
For what it's worth
I'd trade everything I have for what I had, I know that talk is cheap
But for what it's worth
I done did some growing up, I ain't out there getting drunk
I can be what you deserve 'Cause now I see your heart, your mind, your every curve
And your love for what it's worth
Oh
For what it's worth
Oh
Praise the Lord for southern women, Hemi engines, crispy chicken
Praise the Lord for east Atlanta, Country Grammar, and my nana
Praise the Lord that I got everything I want and need and more (yeah)
I might turn up on Saturday, but first thing Sunday morn'
I praise the Lord (yeah)

Praise the Lord for sister Julie, big ol' hat and tambourine
She keeps playin' when we're shoutin', doesn't know that she's off beat
Praise the Lord for my bartender, turns a single into two
We went crazy out there last night, we need savin' in this pew
It don't matter how you worship, sinner, saint, win or lose

Praise the Lord for southern women, Hemi engines, crispy chicken
Praise the Lord for east Atlanta, Country Grammar, and my nana
Praise the Lord that I got everything I want and need and more
I might turn up on Saturday, but first thing Sunday morn'
I praise the Lord

He rockin' with me, that's for sure
(Praise the Lord) praise the Lord
(Praise the Lord) praise the Lord
He rockin' with me, that's for sure
(Praise the Lord) praise the Lord
(Praise the Lord) praise the Lord

Praise the Lord for my three babies and the one that's on the way
All the words up in the Good Book and dirt up on my Chevrolet
Praise the Lord for Sunday mornin' and paycheck Friday afternoons
For cold beer conversation and broke in cowboy boots
It don't matter how you worship, sinner, saint, win or lose

Praise the Lord for southern women, Hemi engines, crispy chicken
Praise the Lord for east Atlanta, Country Grammar, and my nana
Praise the Lord that I got everything I want and need and more
I might turn up on Saturday but first thing Sunday morn'
I praise the Lord

He rockin' with me, that's for sure (oh, mm, oh, oh, oh)
(Praise the Lord) praise the Lord
(Praise the Lord) praise the Lord
He rockin' with me, that's for sure
(Praise the Lord) praise the Lord
(Praise the Lord) praise the Lord
Praise the Lord (ooh-ooh-ooh, oh)
(Praise the Lord) praise the Lord