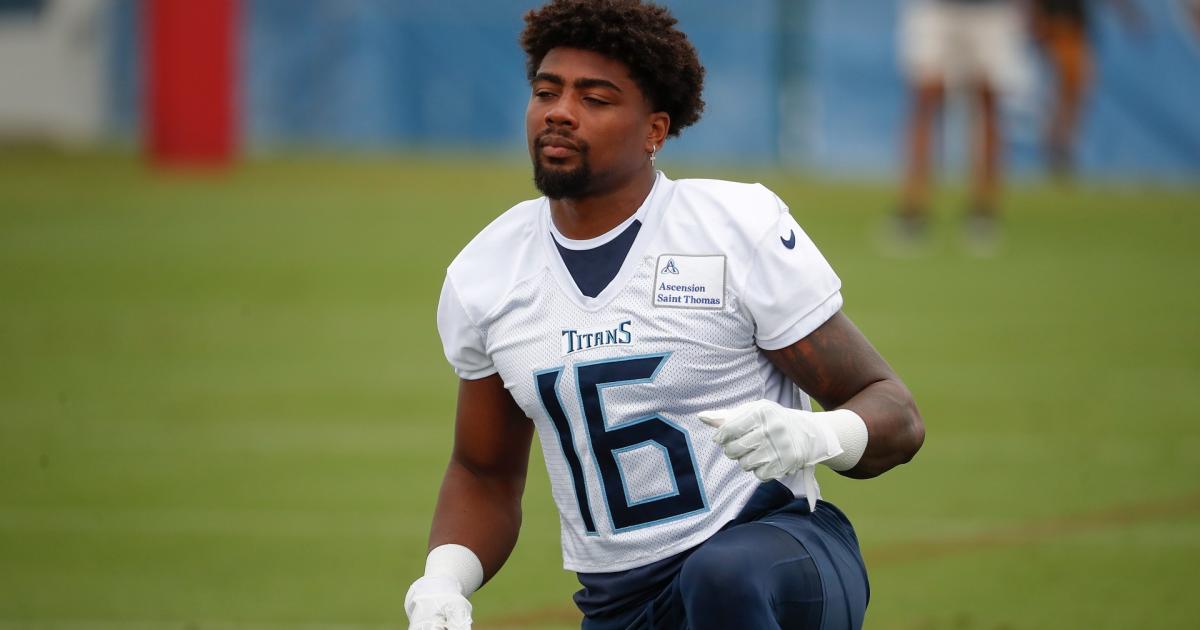 The Titans have suffered a scary moment in practice, as 2022 first-round pick Treylon Burks was carted off the field Wednesday.
Burks, a receiver who was picked 18th overall out of Arkansas, played in just 11 games in 2022 as he battled turf toe and a concussion he sustained on his first career touchdown.
Wednesday's incident occurred in a non-contact play during a joint practice with the Vikings, as Burks made a catch deep downfield. As he tried to stop himself, he stumbled forward and fell, got up, and quickly collapsed to the ground again.
Adam Schefter reported Burks was subsequently carted off the field.
MORE: NFL power rankings: Jets, Lions, Ravens hype is real
Leighton Glodek on X, formerly known as Twitter, showed a video of the play.
#Titans Treylon Burks beats #Vikings Akayleb Evens deep than comes off hobbling. pic.twitter.com/sxXCU9Ca60

— Leighton Glodek (@LGlodek) August 16, 2023
"You hate seeing that," Titans quarterback Ryan Tannehill said when asked about the injury, per AtoZ Sports Nashville. "Yeah we'll find out more information, see what's really going on. But hopefully he's gonna be alright. He seemed obviously upset and understandably so. Just thoughts and prayers right now and hopefully it's not too bad."
What is Treylon Burks' injury?
According to NFL Network's Ian Rapoport, Burks is dealing with a sprained LCL. That injury, while of note, is not expected to be a season-ending one; instead, it should keep him out for a few weeks, which may give him a chance to play in the team's season opener against the Saints.
#Titans WR Treylon Burks suffered an LCL sprain during practice today, sources say after the MRI. This is good news, as Burks should only miss a few weeks. A scare, but a solid result considering. pic.twitter.com/aIw4FsVC7t

— Ian Rapoport (@RapSheet) August 16, 2023
Burks came up lame following a big catch downfield in which momentum kept him hurtling forward. He got up for a moment after he went down but couldn't stand under his own power for long.
How long is Treylon Burks out?
As Rapoport mentioned, Burks is only expected to miss "a few weeks" as a result of the injury. That may give him a chance to be ready for the first week of the season when the Titans face the Saints.
That may represent the best-case scenario for Burks. The University of Pittsburgh Medical Center lists the average recovery time for an LCL sprain as four to six weeks. That said, the center writes that recovery time "may vary depending on the grade of your MCL or LCL sprain," so perhaps if Burks has a low-grade sprain, he will be able to return to the field before the season starts.
Treylon Burks injury history
Burks had a few injuries in his rookie year with the Titans.
He missed four games after Week 4 with turf toe, and two more games in December after suffering a concussion on his first touchdown catch.
MORE: Who is Terrell Williams? What to know about Titans acting head coach
Titans WR depth chart
The Titans, with the knowledge they were thin at receiver heading into next season, went out and landed one of the offseason's biggest fish in DeAndre Hopkins. It's unknown if Hopkins has the makings of a No. 1 receiver at this point in his career, but if Burks misses significant time, a lot of offense is going to fall on him in addition to Derrick Henry.
The rest of the Titans' depth chart at receiver is an issue. Racey McMath has had limited touches in his first two seasons in Tennessee, and the remaining names are largely unproven. Free agent acquisition Chris Moore would have to step up in Burks' absence, but the void on the outside would be noticeable.
| | |
| --- | --- |
| Position | Name |
| OWR | DeAndre Hopkins |
| OWR | Treylon Burks |
| OWR | Racey McMath |
| OWR | Chris Moore |
| OWR | Colton Dowell |
| OWR | Reggie Roberson Jr. |
| OWR | Tre'Shaun Harrison |
| OWR | Gavin Holmes |
| SWR | Nick Westbrook-Ikhine |
| SWR | Kyle Phillips |
| SWR | Mason Kinsey |
| SWR | Kearis Jackson |
It goes without saying a lot of these names are going to be camp bodies. However, if Burks is out for the early part of the season, it's going to clear the way for an extra name to make the cut.